Turquie photos - Roxane photo - Turkey pictures
Photos de petites filles Turquie
Little girls pictures Turkey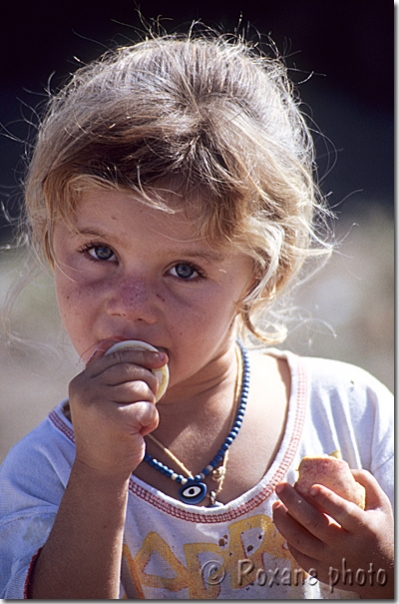 Petite fille et sa tétine - Girl - Hasankeyf


Photo

Filles Turquie - Turkey Girls

photos pictures

Cette petite fille qui hésite entre sa tétine et un morceau de pain est protégée du mauvais oeil par une amulettte appelée "Nazar boncuk", l'oeil bleu indispensable dans les campagnes de Turquie.
© Roxane photo - Turquie photos :
Tous droits réservés - Les photos et les textes de ce site ne sont pas libres de droits. Toute utilisation sans autorisation de l'auteur est illégale et constitue un délit de contrefaçon.
Cliquez ici pour consulter les Conditions Générales d'Utilisation du site Turquie photos.
© Roxane photo - Turquie photos :
All rights reserved - All photos and texts on this site are not royalty free. Any use without author's permission is illegal and constitutes an infringement of copyright.
Le site
Turquie photos
a été développé à partir de
Zen Photo